Archive for June, 2009
25 years of Tetris
Date:

June 6th, 2009

by

SiD3WiNDR


Categories: Games
While we're talking about old games anyway…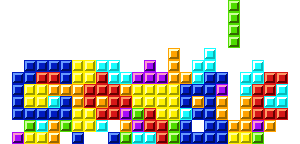 And I've even been playing it yesterday! (on the Wii through HBC ;))
Comments Off

on 25 years of Tetris
Here are the details of your new cake
Date:

June 6th, 2009

by

SiD3WiNDR


Categories: Games
… or was it case? The Chief never spoke very clearly in Where in the World is Carmen Sandiego.
After playing with Adlib Tracker in DOSbox a few weeks back, and rediscovering Wolfenstein 3D on the Wii's homebrew channel, I checked out a few soundtracks and clips of old games on Youtube.. today I mounted my hard drive contents of Ye Olde 386 Days into DOSbox and off we went.. Pinball Fantasies really is one of the best pinball sims ever.
If there's anyone else who gets a fuzzy feeling when hearing (in no particular order) "Lotus 3", "Jazz Jackrabbit", "Wolfenstein 3d", "Prehistorik/Moktar/Blues Brothers", "Halloween Harry", "Indiana Jones and the Fate of Atlantis", "One Must Fall 2097", "Civilization", "Epic Pinball", "Stunts", "Boppin", "Doom", "Blake Stone", "Duke Nukem 2", "LSL/*Quest", "Rise of the Triad", "Galactix/Raptor", "Screamer", "Test Drive 2/3/Grand Prix Unlimited", "Carmen Sandiego", "Wacky Wheels", "Winter/Summer Challenge", "The Lost Vikings", "Red Baron", "Transport Tycoon", "Prince of Persia 1/2" or "Lemmings", we should maybe get together for a retro night/day/weekend 😉
I really like the Titus guy(s) … when you start their game after 2000 it throws a "YAYYY My game is still working in 2009! Programmed in 1992 on a 286 12MHz. Enjoy oldies!" 😀
(Apogee/3DR/iD rock..)
Post a comment (

2 comments

)
1970's restrictions in 21st century games
Date:

June 5th, 2009

by

SiD3WiNDR


Categories: Games, Rants, Wii
Some game developers seem to be really stuck in the 70's … early 80's perhaps too. For example, Electronic Arts' Need for Speed series does not allow you to have a player nickname longer than 8 characters. In the early days, your name was on the license plate, so I could see some reason into having it fit. But since a few years this is no longer the case, it just says NFS. Boo. (note: perhaps in the latest game this may have changed). There are many others who do the same thing.
Yesterday I played Marbles Balance Challenge on the Wii. Enter player name.. ok, there's a bigass window to enter it in, should fit at least 50 letters in there. S .. i .. D .. 3 .. W .. i .. N .. D … what? WHAT? 8 character limit? Ok, my fault for picking a 9 char nick (which is actually 10 but reduced for IRC purposes), but what the heck? It's not like the Wii memory can't handle this… my analog watch probably has enough storage space. I could of course opt for "Tom" but meh. I don't see the difficulty in allowing longer player names.
Comments Off

on 1970's restrictions in 21st century games
Usability
Date:

June 1st, 2009

by

SiD3WiNDR


Categories: Rants, Software
To the moron who bound ctrl-down to Lightning in Thunderbird, please roll over and die and/or make me an option to disable this. (possibly there is, but I don't know where, as there are no real settings for key bindings).
Update: it seems the Mozilla guys are still as great in fixing bugs as they were before – I wonder if this one will also break records in not being fixed (10 years+ anyone?)
Comments Off

on Usability