Archive for October 2nd, 2006
Top Gear: Battlefield 2 Edition
Date:

October 2nd, 2006

by

SiD3WiNDR


Categories: Car, Fun, Games, TV
Very nicely done, although a better quality video would be nice to have:

Comments Off

on Top Gear: Battlefield 2 Edition
KULeuven
Date:

October 2nd, 2006

by

SiD3WiNDR


Categories: Home
Diana now started at KUL doing a "schakelprogramma" (conversion program) in Information Management so next year she can start the course she actually wanted to do this year but got rejected… Hopefully we'll pull through with 2 years of only one person earning anything…
I'm still not very convinced any of the administration at the KUL is actually in any state that would stand a 10-point checklist of how things should work…
Good luck to my little studentje! 🙂
Comments Off

on KULeuven
Pimp my PC
Date:

October 2nd, 2006

by

SiD3WiNDR


Categories: Computing, Fun, Geek, Hardware, Home
Last week I spent some money in "gamer-izing" my computer case. It's a nice Silver Lian-Li aluminium thingy, a bit less nice-looking because of 2 white/beige Plextor DVD & DVD-RW front bezels… So I spent some cash via Ebay on 2 nice aluminum bezels , a nice thermometer/fan monitor display , a few Akasa blue-led fans and a sidepanel with plexi so you can see inside the case (woops, some cleanup needed ;)).
Friday we had some time to kill at Mediamarkt , and I ended up walking out with 2 Samsung SyncMaster 920N 19" TFT monitors… Now I really got the über-PC 😉 (Unfortunately I already have a dead pixel on one of my monitors, so I'll have to go back to MediaMarkt some day soon).
Comments Off

on Pimp my PC
Executing natives
Date:

October 2nd, 2006

by

SiD3WiNDR


Categories: Development, Fun
A funky dialog box from $program, courtesy of The Daily WTF: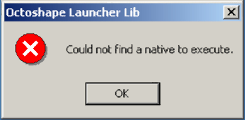 A bit harsh perhaps, no?
Comments Off

on Executing natives
Seven Bills
Date:

October 2nd, 2006

by

SiD3WiNDR


Categories: Fun, Interweb
Via IRC, a project started by the Openminds people to demonstrate and test Ruby-on-rails (+ Google Maps) at Barcamp. It's a Euro bill tracker, where people (like myself) enter serial numbers for their Euro bills, hopefully that same bill will come into other people's hands who will also use the site and boom, a Euro bill flightplan is born. Some rough edges still have to be cut, but it's already Web 2.0'ish as it is 😉 Let's start tracking!
Update: Woopsie, forgot to mention the URL, it's 7bills.eu ofcourse 😉
Comments Off

on Seven Bills
Automatic key retrieval for gnupg
Date:

October 2nd, 2006

by

SiD3WiNDR


Categories: Interweb, Networking, Security
Prepare for another blog storm… first a nice tip I found on this page …
Sometimes I use mutt to read my mail, which nicely autodecrypts and checks pgp/gpg signatures. But then I'd need to retrieve everybody's public key, like the Ubuntu security etc (which I couldn't find anywhere by the way), but no more! gnupg now automatically retrieves keys from the keyserver you specify just by adding keyserver-options "auto-key-retrieve" into ~/.gnupg/gpg.conf.
I don't know if this makes it any less secure though… but WorksForMe(tm) 
Comments Off

on Automatic key retrieval for gnupg